I Recharged my Batteries with LBL
By Rita Borenstein, Certified LBL Hypnotherapist
Uppsala, Sweden
I have worked as a nurse and later as an Osteopath D.O.  for over 30 years now, yet I have never experienced such an amazingly rewarding, and still enormously energy-consuming task as having a daily practice as an LBL facilitator trained by The Newton Institute. Ever since I was certified as an LBL facilitator in 2013, I have been very busy with LBL sessions, workshops and my volunteer commitment as TNI Certification Mentor Coordinator. From time to time a deep renewal for myself is necessary!
A few months after my first book, To Soul Home and Back: Life Between Lives Hypnotherapy for Spiritual Regression was published in 2018, I started to feel a calling to write a second book about LBL. Many sessions later I again felt an urge to put my experience into writing. I contacted my dear LBL colleague, Dr. Dorothea Fuckert in Germany who wrote the foreword to my first book. I asked Dorothea if she was willing to facilitate my fourth LBL and this she agreed to. My plan is to include my LBL experience with Dorothea in my next book.
I have recently returned to Stockholm after my journey when I stayed over Easter with Dorothea and we exchanged LBL sessions. I did not know that my batteries were longing for recharging as much as they were until after my arrival, when I sat with Dorothea drinking ice coffee in the café outside my hotel in Eberbach. I realized that my life as an LBL facilitator had been quite lonely and challenging at times, and now sharing experiences in this way with Dorothea felt so nourishing and wonderful.
To renew myself completely, the old must go which is sometimes difficult. In my LBL with Dorothea I had the luck to meet with my personal guide on an even deeper level than before. In the presence of Dorothea, I felt so safe. The experience recharged my batteries in a wonderful way.
I saw and felt in Dorothea what I call a "purpose friend". By this I mean that I recognize myself in her and by this remember my own purpose more. My soul spark was ignited on yet another level I did not know was possible!
In my LBL I experienced a childhood memory of when I was a four-year-old and danced to my favorite song in Yiddish called "Bei Mir Bist Du Schein". I was wearing my ballerina dress and felt so beautiful. My father was taking a picture of me in the happy moment. To relive my childhood happy memory was so energizing!
When Dorothea and I said goodbye before my departure, she gave me a CD on which was written "Surprise for Rita". Yesterday after returning home, I listened to the recording! It was "Bei Mir Bist Du Schein" which Dorothea and her husband Manfred had played for me on the piano and recorded on the CD as a gift of love. Every time I listen to the CD my memory on a soul level ignites this spark. Thank you, Dorothea! ♦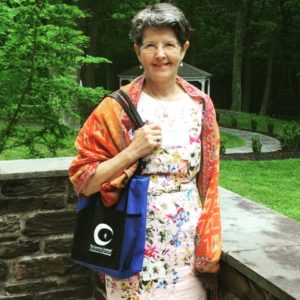 Rita Borenstein, LBL Hypnotherapist
For more information about the author or to schedule a session